/
Discovering The High Line, NYC
One of the wonderful things about New York City is that just when you think you've seen it all, or know it all, something changes, reinvents itself, becomes anew, tempting you to come back and take another look, rediscover it, get to know it again.  It is why even after living here most of my life and having been gone for almost 4 years, I find myself returning to a city waiting to be rediscovered. It is why no day is short of one adventure or another.
And today's adventure took my family to The High Line. We headed over to the ever hip and cool Chelsea, in lower, west Manhattan.  It is home of many wonderful sites we love. The High Line was formerly a freight train line originally established in the 1930s.  After a threat of its demise by city plans, the Friends of The High Line was established. The group was successful in raising funds and support, helping to secure its protection and establishment under the jurisdiction of the New York City Department of Parks and Recreation.
They arrive to 16th St, location of the only functioning elevator.  It seems that another elevator is in the works, but due date is unknown (there are other entrances as well). The afternoon was beautiful, sunny, and not too hot.  When we arrived to the top of the park, we easily mingled in with the flow of people slowly strolling about, taking pictures, and admiring the beauty of the place.
What we really liked about this place were the details about it. Like how the new design highlights the old and even makes the once abandoned and forgotten so noticeable and cool again. I loved the beat up structures against the newly laid out ones and how the plants and flowers helped heighten the age and history of the place.
My kids loved the lemonade and cookies stand (cash only, and they sell cold pizza too), and really enjoyed the cedar lounge chairs and benches found throughout, and the overlook area the allow for visitors to look down and across at the streets below. Oh yeah, they also got a kick out of catching a lady bug in one of their cups!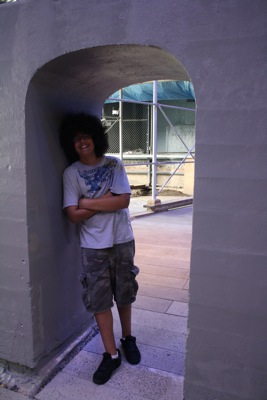 With a little over a mile long, this is the perfect spot to take a break, go for a walk, get a snack (or bring one), grab a lounge chair, sit back, and enjoy the sun as you over look the water.  We had a nice time there, and even managed to relax for a bit. It's really a beautiful space, still being worked on, and likely to be enjoyed by them many more years to come.
[subscribe2]