/
Greenmarket in Washington Heights, NY
Thursdays in Washington Heights. It may seem like just another day in the neighborhood to an outsider looking in, it may seem like just another work day to those just walking through to catch the train downtown.
But to those like me who spend most of their mornings in the neighborhood, running errands, dropping and picking kids up from school, etc., Thursdays in Washington Heights is special. And that is because it is when the Farmer's Market comes.
Now, there used to be a time, not too long ago, where the Farmer's Market in the area was a sad, sad display of limited products and very few vendors. It really wasn't much to look at, though it was there. But now, between July and early November, every Thursday from 8:00AM to 5:00PM residents can walk over to 175th St and Broadway and enjoy an abundance of fruits and vegetables, fresh fish and cheeses, baked goods and fresh cider, without setting foot on the downtown A train.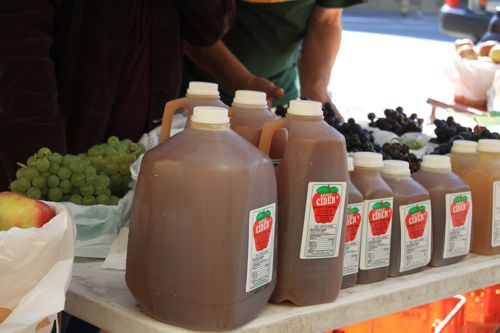 I recently took note of the greenmarket in my neighborhood, as you know from previous posts, I have travelled quite a ways to enjoy one. But having such an awesome one, right here, is great!
I love seeing the older women come in with the big carts and empty sacs looking to purchase ingredients for the weekend's meal, and residents coming together for conversations and greetings.
It's a smaller market than most, only about 1 and a half blocks, but it is enough. My boys love walking through, stopping to stare at the live crabs, picking out their apples, greeting and smiling at the vendors.  To see them walk through this market, with confidence and a sense of familiarity is wonderful. They enjoy it, and feel at home here, and the vendors are all really, really friendly and kind. Today after picking up the 4 year old from PreK, we headed over and purchased two huge green apples, and I bought a nice sized blue fish from Seatuck Fish Co., located in Long Island, which the boys are excited (seriously) to see me scale and gut and cook.
Sadly, it stops during the winter and doesn't come back till the very beginning of the summer, but if you get a chance to come to The Heights on a Thursday, stop by the market. I've tasted the sweetest purple grapes here, and have had the best apple cider, not to mention the awesome produce offered, the smell of which just fills the air.
Just one of those little Adventures into a neighborhood in New York City…and if you have the kids with you, walk West on 175th and you will end up in J. Hood Wright Park.  Chances are you'll see us there too, enjoying our treats of the day from our local greenmarket. We hope you can come and visit on the next lovely, Thursday, Fall day before the market says bye-bye till next year.
[subscribe2]