/
Touring The Amber Coast: Dominican Republic's Puerto Plata

When I was a young teen living in the Dominican Republic, most of my friends and their family would venture to the northern coast of the island to take part in the festivities and fun hosted by the many resorts found in the area. The Amber Coast, referred to as such for its large deposits of amber, the largest in the world, has been a favorite destination for visitors worldwide, followed later by Punta Cana as it too started developing its tourism market with a variation of all-inclusive hotels, condos and other lodging options.
But Puerto Plata, the destination of my most recent visit to the Dominican Republic, remains a favorite with nearby locations such as the beautiful town of Sosua and the party spot Cabaret, which has been attracting young crowds since I was a little party animal myself. Cabaret is also home to a long list of restaurants and bars. The area is way more family-friendly during the day.
Puerto Plata is a town full of history and beautiful Victorian architecture. Most views are complimented by its highest peek, at about 2,656 feet, Mount Isabel de Torres. The area has a great variety of beaches, from the small and private Playa Cofresi to the more popular Playa Dorada, noted for its coral reef and golf courses. Of course, the best way to discover beaches anywhere on the island, Puerto Plata included, is to connect with a local who can take you to some of the most private treasures in the area undisturbed by tourists and vendors (an adventurous spirit applies here).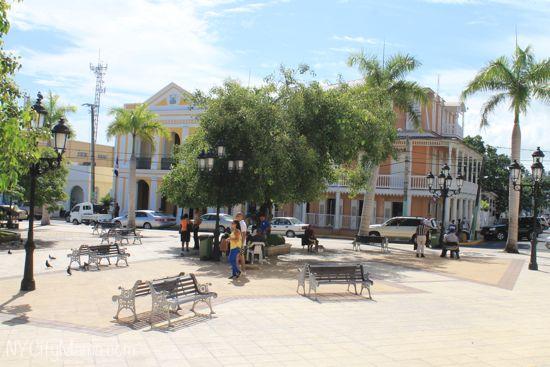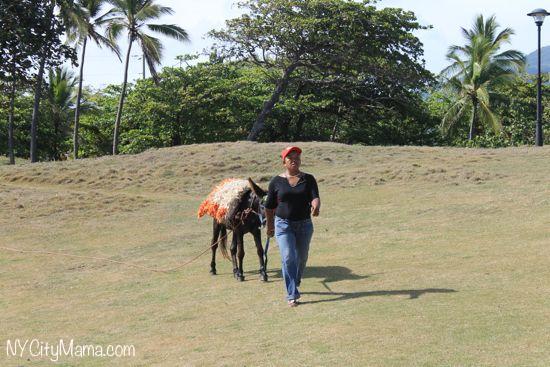 I encourage visitors to take time to really explore the city and learn about its beginnings as it is of great significance to the country as a whole as well as to what remains embedded still in the local culture.
Hotel Options
A lot of the area has been sustained by tourism attracted by the amenities offered through the various all-inclusive hotels found throughout. I stayed in only one, Hotel Be Live Marien, and will list a few others I briefly toured, but if you feel comfortable enough, have the budget for it, and would like to experience something different, I also encourage you to check out sites such as AirBNB and Enrout vacation home listings, as well as research the Dominican Republic tourism site for listings of vacation villas. I tend to prefer this type of lodging for myself because I enjoy the sense of being in the country I am visiting, however I understand that for many travelers the services, budgeting flexibilities and experiences offered through all-inclusive hotels is often what best fits their travel needs. And I think we should do whatever is best for us to get there happily.
Hotel Be Live Marien is only a 15 minute ride from the Internacional Gregorio Luperón airport, the small, easy to navigate airport of Puerto Plata. It is listed as a 5 star hotel, and offers 4 restaurants (reservation required, within the all-inclusive package), 4 bars, a kids club, fitness center, spa, casino and nearby golfing. The beach for this destination is not awful, but it isn't the prettiest in the area and because they offer smoker-friendly rooms, it's best to request a non-smoking room for your stay if that is what you prefer. The staff is friendly, always happy to accommodate your needs. It is standard in the area to purchase WiFi service through an independent provider, the cost of which can be somewhat expensive depending on your needs. The hotel is very family-friendly and the staff is available to help travelers coordinate any visits into town as well as desired excursions off the hotel property. The all-inclusive package includes stay, activities, and food as well as all domestic drinks. For more information as well as seasonal rates, please check their website. The Hotel is a member of Be Live Hotel group.
Grand Paradise Playa Dorada is a short drive from the town of Puerto Plata (15 mins) and 25 mins from the airport. This all-inclusive resort offers a kids club, 5 bars, 3 restaurants, babysitting service (at an additional charge and upon request), walking distance to golfing, and pool. I found their one bedroom suites to be quite lovely and wonderful for families. For more information as well as seasonal rates, please check their website. The hotel is a member of the Amsha Marina Hotel group.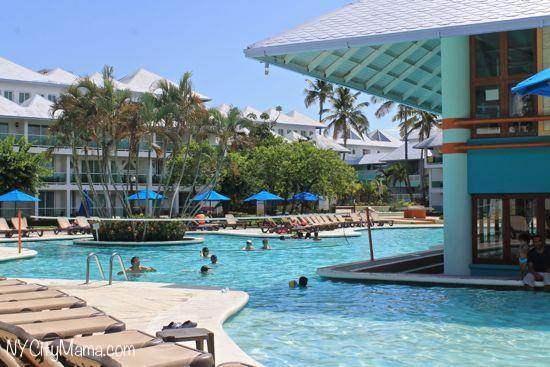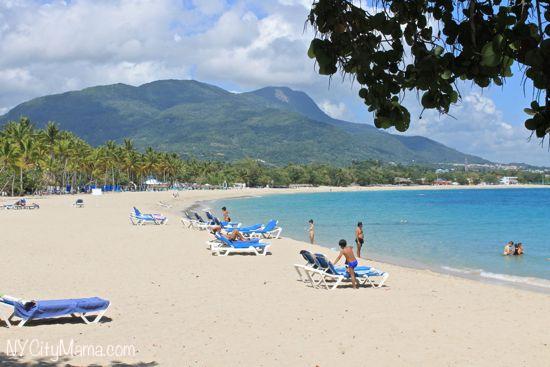 Hotel Celuisma Playa Dorada has pretty large grounds lovely with easy access to a lot, also on Playa Dorada. This all-inclusive hotel also offers suites with kitchenettes for families or larger groups. There's also tons to do here it seemed, and I loved how big the grounds were. For more information and seasonal rates please check their website. The hotel is a member of the Celuisma Hotels and Resorts group.
Hotel Barcelo Puerto Plata is an all-inclusive that offers guests two levels of service and amenities, with their premium member services providing guests with exclusive access to rooms, eateries and even private pools, services, and pool areas. Guests can find out more about these services and seasonal rates on their website.  The hotel is a member of the Barcelo Hotels and Resorts group.
Casa Colonial Beach and Spa was the only hotel I toured that wasn't all-inclusive and provided all the high-end luxuries one would expect from a hotel of this caliber. This is not to say it is ridiculously out of reach. During off-season (which is mostly the summer months till about November) rooms start in the low $300 – think NYC prices, in low season, but in paradise. Celebrities such as Angelina Jolie, Jimmy Carter and Donatella Versace have been known to stay here, and walking around this resort, you can see why. I know I am going on and on about this hotel, which does not include meals, is more ideal for couples than for families, and is a bit pricier than most of the other hotels nearby – but it was gorgeous! The same group also owns a Gran Ventana Beach Resort, which is an all-inclusive and tries to adhere to the same design and attention to detail as its more luxurious counterpart. You can find information on both hotels in the VH Hotels and Resorts website.
 What to Do
The great thing about visiting the Puerto Plata area is that there is as much to do outside of the resorts as there often is to do inside of them. The people of this historic city are proud and friendly, and happy to show it off to those who travel here. Part of the Puerto Plata experience is what it offers those who travel through its neighborhood streets in search of adventure. From the Amber Museum to Brugal Rum Factory tour, if you let your adventurous spirit guide you, you are bound to walk away with a true taste of the region.
Monkey Jungle was by far one of my favorite destinations, for though it offers visitors a chance to adventure down a 4,400 foot zip line challenge course, walk over 3 suspension bridges, visit a monkey sanctuary and go cave exploring, owners Charles and Candy Ritzen put all of the profits from there adventure center into sustaining their free clinic, which serves hundreds of families in this poverty-stricken area providing them with medical care from dental to prenatal. Mr. Ritzen, a successful business owner who once enjoyed an earlier phase of his wealthy retirement yachting around the world found a new purpose in serving those less fortunate. His contributions and free clinic establishment started in one of the poorest parts of the island, on the Haitian side before moving to the Dominican side and helping those in such desperate need of the help and services provided by the many volunteer doctors and specialists that come to work for him. He described his adventure park as designed specifically for autistic guests as well as those with disabilities, noting that his own sister was disabled and this was something he felt important to do. If you do nothing else when visiting Puerto Plata, please visit Monkey Jungle. Not only is it fun for the whole family, 100 percent of the money you spend here, whether in the fun activities or in food, goes to the clinic.
Charles Ritzen, owner Monkey Jungle
San Felipe Fort is the oldest standing structure in the city and the only one that remains from the colonial era. Built in 1477 to help combat the pirates that often sought to invade the coasts, the fort also later served as a prison, once holding Juan Pablo Duarte one of the nation's father of independence. It's a beautiful site to visit and offers a great insight on the history of the city. Located on the edge of the Malecón de Puerto Plata, it is also a great place for pictures and beautiful views of the Atlantic Ocean.
Taking the Teleforico, or cable car, up to the summit of Isabel de Torres is a must, especially on a clear day. When I to the 10-minute ride up it was a bit foggy, but every once in awhile the fog would clear up for a few seconds and I was able to admire the views of the entire city. It's quite a vision. Once at the peek there will be vendors eager to take your picture by the Christ the Redeemer statue (a smaller replica of the Rio de Janeiro landmark) in exchange for your willingness to visit their shops and buy something or a tip. The area is a national park, perfect for picnics and nature exploring. The cable car operates daily, except Wednesdays, from 8:30 AM to 5:00 of PM, with a tariff of 100 pesos per adult and 50 for children.
Ocean World Adventure Park, Marina & Casino is an aquarium, an adventure park, and an entertainments center all in one. There is tons to do there, including swimming with dolphins, sharks and stingrays, and snorkeling a coral reef. You can also walk through a bird sanctuary, where you are bound to make new friends as long as you are willing to feed them! The list of activities during the day is endless, but at night the fun continues at the casino, where you can enjoy the destination's colorful, Vegas-style, Bravíssimo Show dance show made up of 30 dancers showcasing about 120 costumes dancing to and singing Caribbean favorites. This show takes part in Ocean World Casino, adjacent to the marina, only steps away. It makes for a pretty fun night with friends for sure!
The Cascades of Damajagua is for the adventurous soul and oh, so much fun! There are 27 waterfalls in total, but our group only climbed 7 of them. The climbing part was interesting to say the least, with guides literally lifting you a few feet out of the water and onto the next landing. The further in the cave you go the bluer the waters. The cave walls are like nothing I have ever seen before – smooth and pastel colored, seeming like something out of a dream. I was nervous and excited the entire time, but the thrill of it all conquered it all, up to the last jump, the highest of all, into the cool, spring waters of this tropical natural wonder. Not ideal for small children or anyone who has physical limitations of any kind, as it requires rigorous climbing, but also a hike through the forest to get to. The climbs can be intense and require a certain level of agility and strength, though I will admit, the fact that those guides were able to lift me up so high out of the water was nothing short of herculean strength.
Last but not least, enjoy the many great foods served throughout the region. Because of the coastal proximity, seafood is always available. Always ask for natural juice choices (not always readily available at most all-inclusives), order "Los Tres Golpes" for breakfast, which consists of mangú (mashed green plantains), fried white cheese, eggs and salami – at least once. For dinner order "La Bandera", which consists of the typical rice, beans, meat, and fried plantains (sweet or savory). Drink coconut water from a street vendor and when in season the mangoes are the best in the world.
Drinking coconut water with Ana of TravelingLatina.com
Not much has changed since my days spent the in northern coast of the Dominican Republic. It remains as beautiful as I remember, and the people as friendly. No matter where you stay, whether you travel with your family, friends, or on your own, remember to venture out for a full experience.
Additional Tips When Visiting:
"High season" for tourism in the island, and when most prices for hotels and airfares go up, starts around late Fall through the Winter. You can get great prices and packages if you travel outside of that time frame.
There is a $10 tourist tax to enter the country, and a $25 exit fee, but sometimes the exit fee is covered by your airline (I flew Jet Blue from JFK and didn't have to pay the latter fee).
I encourage you to exchange most of your money outside of the airport for lower exchange rates and advise you to set up transportation from the airport to hotel through your hotel directly.
The Dominican Republic as a country has a lot to offer. Puerto Plata, as a city is a great place to start your discovery. Drink bottled water, wear sun screen, carry pesos, wear your bathing suit (cause you never know when you'll find that perfect beach spot), speak Spanish – no matter how badly – smile, breathe in the tropical air, and enjoy.
Many thanks to Yaniris Felipe and Carlos Romero of the Dominican Republic Ministry of Tourism, as well as their partners for their hospitality and service in order to make this experience possible.