/
Holidays at Hershey, PA
Since my family and I visited Hershey, PA a summer ago, we have been wanting to return. For my kids, as for most people, Hershey, PA is all about Hersheypak and the rides. But we found that even when most of the rides are closed during the colder months, there is still enough to do to fill up a weekend visit.
The ride to Hershey, PA is about 2 hours from our NJ neighborhood (2.5 from NYC). There is no colorful foliage anymore during this time of year, but when there is the drive can be quite lovely.
The small town of Hershey, PA was founded by Milton S. Hershey in the early 1900s. The town was built for his employees and their family and included various housing structures at affordable prices as well as parks, schools, community center, theater, sports arena and stadium, as well as The Hershey Hotel.
One of his most passionate contribution was The Milton Hershey School,  a school for orphan boys which today serves to enrich the lives of more than 1,100 financially needy boys and girls in grades K-12. Because the funds to help support this school come from the profits of The Hershey Company and Hershey Entertainment & Resorts Company, a visit to Hershey isn't just a good time, it's also a contribution to a good cause.
Where We Stayed
This time around we stayed in The Hershey Hotel, the historic, luxury hotel which I have most heard about for two things: their Chocolate Spa – which I hear is ah-mazing, and the chocolate kisses they leave by your bed at turn down.
But we also enjoyed how comfortable the space is and how family-friendly (yet romantic) the hotel is as well. The grounds are beautiful and make for a wonderful sunset stroll.
We stayed in a studio, which provided us with two attached rooms, one with double queens beds and a bathroom in one room and a double queen sofa bed in another.
The hotel features 3 in-house restaurants, several shops including a coffee shop. We took advantage of the free shuttle offered to and from the park, saving money on parking. and because the hotel is the official Hersheypark hotel, guests get to benefit from a lot of perks in savings for park and other local attractions.
We had dinner at the hotel's Harvest restaurant. It is best known and celebrated for its use of local and regional ingredients. The She Crab Soup was my favorite. However, I found their chicken flat bread sandwich to be somewhat boring in flavor and my teen found the same to be the case with his smoked baby back ribs. And it is pricey. Even with me just ordering a sandwich and a soup, my husband ordering a salad, my teen the ribs, and my two youngest two items from the kids menu (and no alcohol for us), we paid over $100 for our meal, something we would not have minded so much if we enjoyed more than just the soup. So my recommendation? If it's going to be pricey either way, I say go for the steak as it is their specialty.
The Cocoa Clubhouse is The Hotel Hershey's kids club. Babysitting service is available for children under age 5, and children 5 and older are welcome. Tennis, basketball, arts and crafts, swimming, kids fitness, make your own ice cream, giant tinker toys, and visits to the Children's Garden & Butterfly House are activities often coordinated for little guests who visit the space.
What We Did
A great place to visit to learn more about Hershey; the man, the company, and the town is that, The Hershey Story, an interactive, fun museum that is also home to the Chocolate Lab, which offers 45-minute, hands-on classes about the discovery of where cocoa beans are grown, and the various steps it takes to turn them into the delicious treats we enjoy today.
Our kids really enjoyed the seasonal activities hosted at the Little Elve's Workshop where they got to mold, cut and decorate their own non-edible, chocolate tree ornament.
My favorite experience was at Cafe Zooka where the family and I got to taste warm chocolates from different parts of the world. We had five tickets for the chocolate tasting (one for each of us at $9.95 each ticket), but that two tickets were more than enough to give us all a chance to taste and enjoy each chocolate more than once. If you have no problem sharing, then it's something to consider.
You can't go to Hershey without stopping into Chocolate World. We did a lot of things we did the first time: Make Your own Chocolate Bar (which they kids were just as excited about as the first time we did it), the Hershey's Really Big 3D Show, and the Great American Chocolate tour. But, because we went so close to the holidays we also got to see Santa and the incredible house made entirely of about 2,000 pounds of chocolate and smells just as sweet as well! Breakfast with Santa is one of the activities that the family can enjoy this holiday season at Chocolate World, and a visit to their site enables you to purchase experience packages to better fit your preferences, something I highly recommend doing.
Hersheypark Christmas Candylane
Most of the bigger, taller rides are closed, but we still found it to be a fun visit. A lot of the rides currently opened are for the younger kids and their family, which we totally took advantage of. Personally, I thought it was nice not having the allure of the bigger rides which often serve to separate the family – with dad and teen leaving me and the youngest to go ride the crazy roller coasters – and instead encouraged us to do it all together.
At night the park is a festive spectacle showcasing two million twinkling lights and decorations. As you walk through the park the smell of wood log burning fills the air as s'mores stations found throughout serve the yummy treat to visitors. We picked up our 2012 holiday decorations from one of the holiday shops.
Located right across the road from The Hershey Hotel, the 75 year old Hershey Gardens overlook the town of Hershey. There wasn't much in bloom this time of year, but in the spring and summer the 23 acres of botanical display is something that can't be missed. We rather enjoyed walking through the gardens without the crowds and some areas, such as the Japanese Garden, were still very full of color.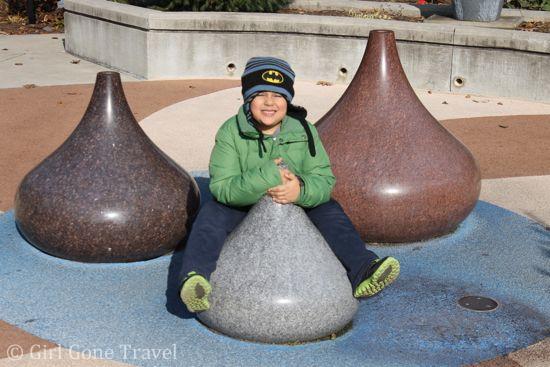 Ice Hockey at The Giant Center
I have never been to an ice hockey game and was really looking forward to watching the local team, the Hershey Bears,  play. Ice hockey is pretty intense and I found the game and the fans to be entertaining. My husband and I spent time explaining to the youngest all we could about the game, till they also got excited with each goal and caught up in the energy of the game – though of course pointing out the grown men can also get put in a time out box was funny. It's especially fun when the local team wins! If you want to really immerse yourself into the Hershey community, going to one of their AHL hockey games. The Giant Center also hosts other events such as concerts and other sport events.
And the list of activities continues beyond what we enjoyed in our two days in Hershey, PA. It proved to be a fun weekend getaway even beyond the summer months and a nice time to bond with the family. The history of this small town is really interesting and it's fascinating to tour around and witness the growth of one man's dream and generosity to a community.
For more information on where to stay, what to do, and events taking place year round, please visit http://www.hersheypa.com/. A special thanks to the Hershey Entertainment & Resorts Company for hosting us.
For a collection of tweets and images of our #HersheyTrip, please check out Road Trip to Hershey, PA.
[subscribe2]