/
Celebrating Carnival in Germany in Photos
February kicks off the German carnival, or karneval, season. The carnival traditions are not exclusive to Germany, of course. Austria and Switzerland share many of the cultural roots as well, but I was fortunate enough to have had my very first Fasching experience in Bavaria.
The larger, most touristy celebrations that people know about are held in major cities such as Munich, Cologne, and Düsseldorf, but the traditions of each vary from region to region. Fasching is southern Germany's (as well as Bavaria and Austria) Mardi Gras. Unlike the more traditional carnivals, the fasching celebrations take place before lent and what I quickly learned and had fun experiencing was that this occasion was all about letting go and partying up.
Outside of Berlin, I always considered the German to be quite reserve and conservative. Unlike my Latino culture, many of my German friends are less boisterous. What I didn't realize was that Fasching was one time when all those ideals are thrown to the wayside to the point where even I couldn't keep up!
Getting there
Arrive through Frankfurt for easier train access. This vibrant city felt a lot like New York to me with its tall buildings and city lights. Not being proficient in German was not a problem, I was able to navigate through this pedestrian and tourist-friendly city and all its businesses, without a hitch. I will say, their subway tunnels can be a bit tricky. I had a moment where I was confused as to which train tunnel to enter through to take my train back to the outskirts, where my hotel was, and no map in hand nor friendly stranger was able to help. Lucky for me, there is a customer service center right in the station to help with inquiries, maps, and schedules.
I was only in Frankfurt for a night, so I can't really say I saw a lot except that it is a beautiful city, especially at night and especially on a nice evening when you can take it all in by walking around.

Off the beaten path
Though most guides will direct visitors to the festivities happening in the bigger cities in Germany, I discovered a lot more traditional norms to experience in the smaller towns and villages. Granted, language is a challenge and I didn't venture into the Black Forest alone. It helps to have a guide not only for language help, but also to explain the cultural nuances along the way.
It's also important to note that although train travel through Germany, and really through Europe in general is fairly convenient, there are certain destinations where you'll need a car as they aren't as accessible any other way. Most visitors will join in on tour groups with a hired car, driver, and guide.
Smaller festivities take place to kick off the larger events and serve as a great intro on what to expect.
Schramberg
I visited two towns, though there are many, celebrating Fasnet. Schramberg is known for its city-wide Hanselspring.
People arrive to line the side of the small cobblestone streets long before the parade is scheduled to begin and in true German form, everything is perfectly on time. The mayor and other local officials gather on a platform overlooking the festivities as crowds cheer while the sound of music fills the air. Masked women, men, and children parade while jumping and sounding their Geschell (bells), through the city. It is both eerie and beautiful.
Some of them held long sticks with pretzels ringed around them. The pretzel, a symbol of lent isn't really considered a religious sign in this occasion, though the parade doesn't kick-off until the ceremonial blessing of the pretzels is completed after which they are passed around to anyone who accurately recites a festive chant, resembling a form trick-or-treating for pretzels. I had no idea what the chants meant, but I gave it a go and eventually was rewarded with my very own pretzel prize. About 25,000 pretzels are distributed this way every year.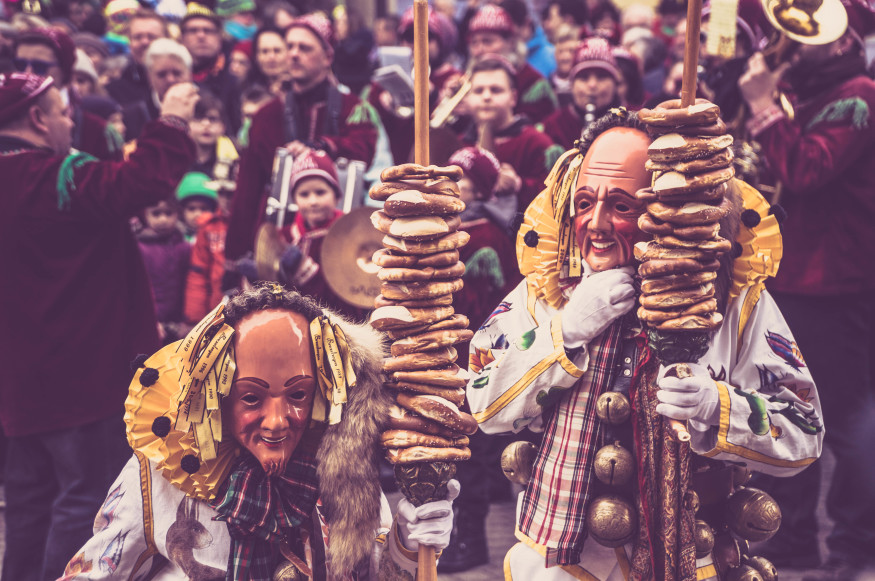 The Da Bach na Fahrt, a race during which local men and women sail down the icy-cold Schiltach River in remodeled laundry tubs are the festivities that continue on the following day. Contestants decorate their tubs however they chose, usually to commemorate anything from a favorite movie to a favorite brand and the rules are simple: participants must be born and raised in Schramberg. I watched in awe as contestants attempted to sail their makeshift barges over the river, many of them falling in in the process. Spirits were free and it was epic to witness.

Rottweil
During the festivities, you will hear people greet each other in a way that seems peculiar to those unfamiliar with the tradition. It consists of a funny sound and everyone, from high-level politicians to community members take part in this practice, the idea being that the same greetings, even if just during the festivities, reminds us all that everyone is equal. Meals aren't lavish either, consisting simply of the traditional dish of lentil and pasta called Linsenessen.
I spent a lot of my time during my visit in silence and awe of much of what I witnessed before me. It shattered any preconceptions I had and revealed another side of German culture I didn't know existed. I suppose at one point my faced really showed my amazement as I stood next to several dignitaries present, causing the wife of one of the mayors to turn to me and say, "It's quite out of character for us Germans, I know. But don't worry. After this week, we will all go back to normal again."
And a part of me hoped that it was only partially true.
Also read: Exploring Germany Off the Beaten Path.
Photography is property of the publisher and may not be used without consent of GirlGoneTravel.com.