/
Highlights of Dijon, France
It was a beautiful summer day when I arrived to Dijon, France. I quickly dropped off my bags in my hotel room at the trendy, Michelin rated Le Chapeau Rouge, slipped into some comfortable walking shoes and headed out. I hadn't been to this beautiful city in two years but I remembered how much I enjoyed walking through it. I also noticed how much it had changed during that time.
Trams were now operating across the city and more areas had been renovated and designated as pedestrian-only. It felt airy and open.
The sun was slowly setting, the yellow light of dusk glowing on the limestone buildings that adorn so much of the architecture of this city. People enjoyed their meal and wine outside their favorite eateries, laughter and conversation filled the air. So much of my travel days had a hint of stress over the looming strikes that had affected, though in small part, my train commutes around the region, but none of it seemed to bother the French. The weekend was here and they were embracing it. I sighed, relaxing and embracing it too. C'est la vie, after all.
Since my last visit, Dijon's effort to preserve and restore much of its historical and architectural beauty has led to it being listed as a UNESCO World Heritage Site. In addition to the historic centre of Dijon, the UNESCO recognition extends itself to the vineyards of Côte de Nuits and the Côte de Beaune in the Côte d'Or department of Burgundy. The changes and recognition have drawn a lot of attention to the city, increasing the flow of visitors and those who want to live there. But many of the things I first loved about the city have remained the same and I was so happy to have had another chance to revisit them all.
Passes and Tours
There is no question that the museums, theaters, galleries, and exhibits highlight the cities vibrant art community and I would make sure to explore it when there, but the life outside of the museums is just as wonderful requiring attention to detail and a slow pace to truly appreciate.
A great way to do this is by picking up a copy of The Owl's Trail from the tourism office. For a small fee you receive a detailed guide through an owl marked path around the city highlighting spots of special interest. There are 22 stops and 3 different loops to explore. The guide offers a brief history of all the landmarks along the way with recommendations of what not to miss nearby. It is one of my absolute favorite activities in the city and one I hope to do with my children.
I also recommend picking up a tourist pass. The Dijon City Pass gives you access, with no need for lines, of the monuments within the city. The Dijon Côte de Nuits pass provides access to city highlights as well as to some of the best wine-growers in the area. Dijon – Côte de Nuits was recently awarded the "Vineyards and Discoveries" label. The wine region is among the best in all of France.
Take of a tour of the Gaugry dairy and cheese shop, just outside of Dijon center city. See how these traditional cheeses are made and make sure to purchase a tasting plate. I went in the morning and really couldn't stomach pairing my cheese tasting with wine, so they offered me a taste of a locally made all-natural apple juice. I was never left this impressed by apple juice before – sadly, I failed to jot down the name of it (travel blogger fail!), but I mention it as a recommended ask when you visit. It was a lovely combination.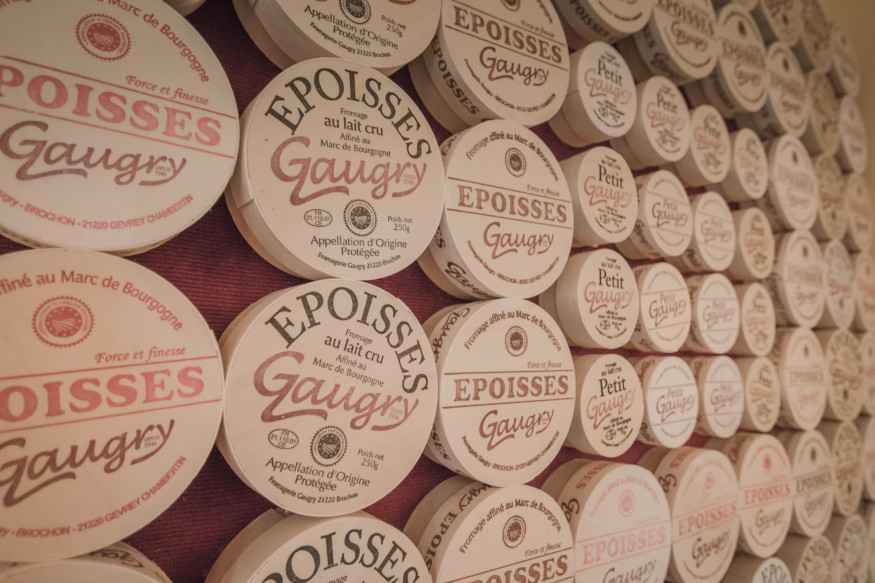 Of course, you can also schedule a guided tour that focuses on other areas of interest too.
Food and other tastings
I have never had a bad food experience in Dijon. I won't go as far as to say they don't exist, but I think they are a bit harder to find, especially considering that Dijon is among the top gastronomy destinations in the area (Beaune and Lyon are also up there). I had my first taste of frog legs in Dijon, and though I have no interest in trying them again, I will say they weren't bad.
On this recent trip, the best food I had was a farm-to-table meal paired with some lovely local wine at Les Domaines Qui Montent. The traditional Burgundian Coq au vin, poached eggs in red wine, or anything with escargot are a must, and most likely will be on the menu. You can take your culinary adventure a step further and sign up for one of the cooking classes hosted right in the restaurant led by chef Bernard Lesage and paired with a special selection from his wine collection. Casual, friendly, and true to the region.
Visit the Fruirouge Farm, surrounded by the beautiful Hautes-Côtes de Bourgogne vineyards. This is where the blackcurrant liquor is grown and produced. A traditional fruit of the region, blackcurrant has been popular since the late 1500s. It was once used for medicinal purposes, but then slowly began to make its way onto the tables of Burgundy as a spread and a liquor. Blackcurrant, or cassis, was described to me by a local as a favorite way to enrich, or sweeten, a bland or maybe not so great white wine when drinking casually among friends. And it does make a difference. This strong yet flavorful liquor as well as the fruit itself is also used in cooking. You can taste and purchase the liquor and other cassis products at the farm's sweet little shop. The scenic drive there is worth the trip.
Special treats and shopping
I am not much of a shopper, except when it comes to picking up gifts for friends. My favorite stops are Edmound Fallot and the Maille Mustard Boutique. I love what they both do with mustard, but I especially love that Fallot has its production plant right in store and their collection of mustard is both for the culinary brave and adventurous. A must visit. I also enjoy stopping into the Rose de Vergy for traditional spiced bread and other treats.
Another fun place to explore is the Rue Verrerie in the antique district of Dijon where treasures of yesteryear and today can be found. Visit Rue Musette for wines. The covered market nearby, opened every Tuesday, Thursday, Friday, and Saturday, offers an array of flavors and scents of Burgundy delights from local farmers. The market building was built in the late 1800s and even if you aren't going to shop it is worth walking through.
If you want to stay outside of the city center and surround yourself with vineyards, check out the newly remodeled 4-star Le Richebourg hotel. The hotel has a lovely spa that utilizes treatment products made with the extracts from the vineyards and the Le Vintage restaurant right on site serves meals, which I enjoyed most while sitting outside on the patio of their lush garden. A must is to book the room with your own personal sauna inside.
The hotel is located along the Route des Grands Cru wine route. The road, known as The ChampsElysées of Burgundy, takes you through 37 beautiful villages and some of the most celebrated wine appellations in the region. The Richebourg Hotel offers two vineyard tours for staying guests. You can reserve them directly at the hotel's front desk.
Over the years I have really come to fall in love with France and the diversity of its wine regions. The people there always have this beautiful way of giving and sharing their culture through wine, food, and story-telling. They are proud of their history and how it has influenced much of who they are and how they celebrate life. But the classical beauty of Dijon is right up there with my love for Bordeaux and I think, upon visiting, you might understand why it is among my favorite French cities.
Many people pass through to other, bigger destinations, such as Lyon – which I have yet to visit – but I say, dedicate some special time to Dijon and its surrounding areas. It will reward you in kind with all it has to offer.
You can read more about my other adventures in France here. Check out more photos from this trip on my Instagram with hashtag #GGTinFrance.
For a glimpse on one of my beautiful days in Dijon, check out my YouTube video!
In partnership with Atout France. 
All photos are property of Girl Gone Travel® and may not be used without direct consent from the publisher.